Exciting news: client Dr. Clodagh Ryan, DPC, on NBC News last night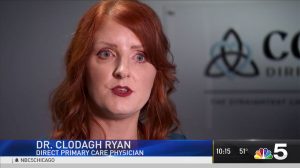 We're thrilled to announce that our client, Dr. Clodagh Ryan, appeared on NBC News last night. It was a segment about a newer model of healthcare called Direct Primary Care. Congratulations, Dr. Ryan! DPC, the model of healthcare that she provides, allows for longer appointment times, convenient ways to have an appointment (such as on the phone or by text), and one-on-one time with your doctor. See the full segment.
It was also great to see the office signage we created for her on television. Orangeflux refined Cara Direct Care's brand identity and designed their business cards and signage. We also have other marketing materials in the works for this unique doctor's office. We wish her continued success.
---
back to all news