Phil Suess Officially Sworn in—Mayor of Wheaton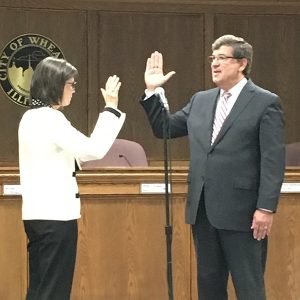 May 6, 2019 | Phil Suess was officially sworn in as Mayor of Wheaton on the evening of May 6, 2019. We were happy to be there for the event at Wheaton City Hall. A packed room welcomed Mr. Suess as Mayor of Wheaton.
We were honored to be part of the process—Orangeflux was the design, marketing & advertising agency for his campaign. We created his identity with logo; printed materials in the form of a palm card, signage, and a series of direct mailers that went out to the residents of Wheaton; a coordinating CMS website; integrated social media including ads; and other collateral material. It was a pleasure to work with the (then future) Mayor Suess, and we wish him the best of luck!
See some of the design/advertising components of the campaign.
---
back to all news